The Dwarf Holds (TDH) is a mod for The Battle for Middle-Earth. TDH adds a fully-functional Erebor faction, significantly updates the gameplay and artwork of the original four factions, and includes a wide array of maps covering the whole of Middle-earth.
TDH's latest version, 0.75, was released in March 2012, and can be downloaded from our downloads page. For more information, check out our news (below), screenshots on our media page, and information about new content on our about page.
News - January 23rd Update: Rohan Spellbook, Part II
Posted on January 23, 2012, by . View Comments (16)
Update time!

This week we'll be revealing the last of the changes to Rohan's spellbook, which also makes this the last Rohan update!


Replacing the now-obsolete Anduril ability as one of Rohan's tier 2 powers is Aid from Lorien. A passive power, Aid from Lorien allows the player to recruit Haldir and the Galadhrim from the Rohan Archery Range.





With the ability to toggle between bow and sword, the Galadhrim are the same elves you know and love - with the exception of the trample immunity offered by their sword toggle, which has been removed. Your Galadhrim can still be upgraded with heavy armour, forged blades and fire arrows; can remain stealthed amongst trees; and can be combined into a double battalion.





Also joining Rohan's hero roster is Haldir, who is buildable from the archery range once Aid from Lorien has been purchased. A resourceful and versatile warrior, Haldir is able to remain hidden amongst trees; and his rank 1 Toggle allows him to switch between bow and sword. Whilst using his bow, Haldir is also able to use his rank 1, Pinpoint Strike ability, which damages an enemy unit and reduces their speed for a short duration.





At rank 4, Haldir gains his Elven Captain leadership ability, granting an attack and experience bonus to nearby Galadhrim. And lastly, at rank 7, is Haldir's Call Volley. When selected, Haldir fires a flaming signal arrow, which soon brings a flurry of arrows down on any unfortunate enemies within the targeted area.





And as many of you have guessed, replacing Army of the Dead as Rohan's final spellbook power are The Three Hunters. For 10pp, you can temporarily summon, Aragorn, Legolas and Gimli to the map, each with a range of unique abilities.

Firstly, each of the Three Hunters share the passive Hunter ability, which grants Aragorn, Legolas and Gimli a small boost to armour and speed whenever they are nearby either of the other hunters.





Aragorn gains his Knife Throw ability, which damages and reduces the armour of the targeted unit. Athelas allows Aragorn to heal his fellow hunters, as well as other friendly heroes; and Blademaster vastly increases his attack speed and damage for a short duration. A natural born leader, Aragorn's Leadership inspires surrounding troops, granting them a damage and experience bonus.





Legolas retains his Hawk Strike ability, allowing him to fire twin shots at a targeted enemy. Knife Fighter allows Legolas to temporarily switch to melee attacks, as well as granting him a boost to armour. Legolas' Train Archers grants experience to targeted units; and his Elf Eyes ability allows Legolas to reveal stealthed enemies within a targeted area.





Gimli keeps his Axe Throw ability, allowing him to take out multiple enemies at once. Donning the shield he was given by Theoden in Rohan's capital, the Buckler of Edoras grants Gimli an increase to defence, at a cost to speed. And lastly, Gimli's Dwarven Vengeance ability allows him to regain small amounts of health whilst attacking. A passive ability, it also inspires surrounding troops, providing them with a small boost.


And that's it! Hope you enjoyed this week's update, keep your eyes peeled for a release announcement which hopefully won't be too far away!
Posted on January 23, 2012, by . View Comments (16)
News - January 16th Update: Rohan Spellbook, Part I
Posted on January 16, 2012, by . View Comments (15)
Hey there!
In this weeks update, we'll be looking at the first lot of changes to Rohan's Spellbook.

Replacing Heal as one of Rohan's tier 1 powers is
Ride Light and Swift
. When activated, this global ability grants all your mounted units an increase in speed and a decrease in trample deceleration. Lasting for 30 seconds, Ride Light and Swift can be equally useful in cutting through enemy ranks, outmaneuvering foes, or for making hasty retreats.
At tier 2 is
Muster of Rohan
, replacing the now completely-removed Elven Wood. For 2pp, this ability provides a 60 second bonus to all stables when activated - decreasing the cost and build time of all mounted units. When combined with the cavalry discount provided by farms, the cost of mustering your rohirrim can be incredibly low!
Lastly, the
Oath of Cirion
replaces the Elven Allies power at tier 2. At a cost of 3pp, this ability summons 2 battalions of Gondor Archers and 2 battalions of Gondor Spearmen to Rohan's aid. Upgraded with heavy armour, your Gondorian allies can be extremely useful in raiding undefended settlements, outflanking enemy troops, or simply bolstering your existing forces.
And that's all for this update!
Next week:
Rohan Spellbook Part II
Posted on January 16, 2012, by . View Comments (15)
News - July 12th Update: Gondor Spellbook
Posted on July 12, 2011, by . View Comments (127)
We've made a number of changes to Gondor's arsenal of spellbook powers, removing duplicates and some of the others.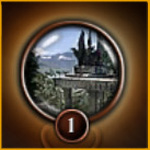 First,
Elven Wood
has been replaced with a new power called
Remnants of Numenor
. This power similarly creates an area of overgrown ruins for your troops to fight in. However, instead of giving a large bonus to armor, it gives a large bonus to experience gain rate and a small one to armor. This lets you level your troops quickly in the early game, reducing the money you might spend on Banners.
Rohan Allies
has been replaced by
Fealty of Dol Amroth
. This new power is similar, summoning cavalry, but instead calls on Prince Imrahil and two units of powerful Knights of Dol Amroth. Besides giving generally potent units,
Prince Imrahil
can use Righteous Fury - a single target damage power to prey on monsters or heroes. He also comes with two passive abilities -
Prince of Dol Amroth
for leadership and
Imrahil the Unscathed
, which passively reduces the damage of all enemies attacking him in melee by 40%. Use these units wisely though, as they're only around for two minutes.
Elven Allies
is gone as well, replaced by a passive spell called
Light the Beacons
. To explain this I'll need to tell you about the new building Gondor has acquired: the Beacon. The Beacon is built on economy plots like the Farm, and passively provides a bonus to armor and fear resistance. When you purchase
Light the Beacons
, they become lit and now you're in business. Each beacon can purchase
Call for Aid
for 500 resources, summoning a random unit from Rohan or the Southern Fiefdoms to your aid. These units are permanent and can all use formations and be upgraded with Banners. You might get Knights of Dol Amroth, a unit of Rohirrim Archers, some Spearmen from Pelargir - or one of many more possibilities.
The last major change is to the
Army of the Dead
. No longer does the green tide eat armies for breakfast - it functions in a slightly more interesting fashion. They don't do any damage, but instead apply a massive reduction in armor, fear resistance and damage whenever they attack an enemy. In addition, they also broadcast uncontrollable terror. Alongside the reduction in fear resistance, this means that often even high-ranked units will run away! During this time, your enemy's army is completely vulnerable to a charge by Gondor's finest.
This about concludes the changes to Gondor. I'll get on to Isengard changes in a week or so.
Posted on July 12, 2011, by . View Comments (127)
News - June 28th Update: Gondor Unit Roster Changes
Posted on June 28, 2011, by . View Comments (24)
There are a couple of changes to Gondor's units roster in the new version of TDH:

Firstly, Gondor Soldiers have been replaced with Gondor Spearmen. Functionally, they are practically identical to the old unit, though they have a little more attack range, better armor against cavalry and slightly higher cost revenge damage. They cost a wee bit more too (20).


EA's strange Tower Guard unit is also gone, replaced with Citadel Guard. Again, these are functionally identical and are just a graphical upgrade. The Fountain Court guard remain as rare, powerful units instead of being front-line combatants.
I should also probably mention that we (Matias) have done
another reskin/remodel
of all the basic Gondor units. No more weird rigging or strange pointy bits!
The most interesting new unit though is the Gondor Captain. Like the Dwarf Captain, he's a powerful single unit that can lead men into battle to improve their performance. The leaders of Gondor are however quite different than their Dwarven counterparts. While the Zirak-Burk
Posted on June 28, 2011, by . View Comments (24)
---