The Dwarf Holds (TDH) is a mod for The Battle for Middle-Earth. TDH adds a fully-functional Erebor faction, significantly updates the gameplay and artwork of the original four factions, and includes a wide array of maps covering the whole of Middle-earth.
TDH's latest version, 0.75, was released in March 2012, and can be downloaded from our downloads page. For more information, check out our news (below), screenshots on our media page, and information about new content on our about page.
News - Upcoming TDH Patch News
Posted on March 31, 2012, by Nertea. View Comments (4)
Hello T3Aers,

Though the release of 0.75 seems to have gone reasonably well, some issues have come up that we're working on addressing. These include the Entmoot bug and a few balance changes. Expect a patch to be out in a week or so, as we're also working on making needed improvements to the AI that need some more time. We'll also be releasing a Worldbuilder installer that will allow you to make maps with TDH content effortlessly. Stay tuned for more information.

In the meantime, we can offer a solution to the pink arrows bug that seems to occur at random. To greatly decrease the chance of this happening, when you install The Dwarf Holds, makes sure to run the installer as an administrator. To do this, simply right click on the file and select "Run as administrator". Then, proceed as normal. This has worked so far for forum members. If the problem persists, you may also want to run Battle for Middle-earth as an administrator.

Thanks for your patience!
Posted on March 31, 2012, by Nertea. View Comments (4)
News - January 9th Update: The Heroes of the Mark
Posted on January 9, 2012, by _Haldir_. View Comments (13)
Hey everybody!

Before we dive into the second Rohan update, we thought it'd be nice to give you an update on the progress of the mod. Unfortunately, Nertea is going to be away for a couple of weeks, so the release of the next patch is going to be delayed until after he comes back. Rest assured though, that progress on the mod is going swimmingly, and that besides some bugfixing and polishing, there isn't a lot left to finish off. You've all been incredibly patient - just hang in there, it won't be much longer


Until then however, i'll be taking over the next few updates, which will cover the last changes included in the next version, 0.75!



In this update, we'll be looking at some exciting changes to the Rohan hero roster.






Firstly, in keeping with the changes made to his Gondorian counterpart Pippin, Merry will be receiving a new power - Esquire of Rohan. Available at rank 4, this passive power grants Merry a boost in armour and health. Merry otherwise remains unchanged, retaining his Elven Cloak and Toggle Sword/Rock abilities.






Newly added to Rohan's ranks is Gamling the Old. Although a capable warrior on foot, Gamling can also use his Mount ability at rank 1, allowing him to join the ranks of your rohirrim archers. A stout and loyal soldier, Gamling's Fealty ability is also available at rank 1, which grants Gamling a passive experience boost whenever near Theoden, Eomer or Erkenbrand. At rank 4, his Master of Archers leadership provides a passive attack buff to yeoman archers and rohirrim archers.






At rank 6, Gamling is able to summon The King's Standard, a banner that provides leadership and replenishes nearby battalions. It is only temporary however, and can also be destroyed by the enemy if not protected.






Also joining the Rohan hero roster is Erkenbrand. A great warrior and strong leader, Erkenbrand's rank 1 ability, Horn of the Westfold, inspires nearby troops and provides them with boosts to attack and speed. At rank 3, Erkenbrand displays the Red Shield of the Mark, which grants Erkenbrand additional health, as well as attack and armour bonuses to peasants, westfold miltia and yeoman archers. And like most of the Rohan heroes, Erkenbrand is equally skilled on horse and foot - his Mount ability available at rank 4 allows Erkenbrand to ride forth with the rest of your Rohirrim.






Erkenbrand receives his Rally the Westmark ability at rank 6 - a passive ability which decreses the cost of peasants, horsemen of the mark, and westfold militia. And finally, Erkenbrand becomes a truly fearsome warrior at rank 8, when he receives his Hammerhand Reborn ability. When activated, Erkenbrand's damage is greatly increased, and he may randomly deliver a devastating blow to knock back and damage his surrounding enemies!






Lastly, as many of you know, Aragorn and Gimli have assumed their roles amongst the heroes of Gondor and Erebor respectively. As such, Legolas has also been removed from Rohan's heroes. Don't worry though, more will be revealed on the fate of the Three Hunters in a future update
Next week
: Rohan Spellbook Part I
Posted on January 9, 2012, by _Haldir_. View Comments (13)
News - December 5th Update: Mod of the Year and The Horse Lords
Posted on December 5, 2011, by Nertea. View Comments (10)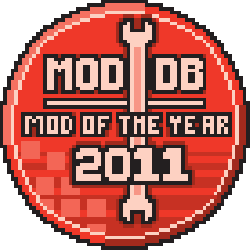 First off, I'd just like to mention that Moddb's Mod of the Year contest is going on right now. If you'd like to support us in our effort to get some BFME mods well-recognized, you could head over to our page
HERE
and vote for us. Also consider voting for
Phoenix Rising
, another Revora mod that I work on from time to time
. We'd really appreciate the support.
Anyways, on to the update!
Welcome to the first Rohan update! The next few updates will roll out the changes to the Horse-Lords of Middle-earth, and then, hopefully, we'll release version 0.75.
We'll kick off the next set of updates with the three new Rohan units we'll be introducing, as well as one structure.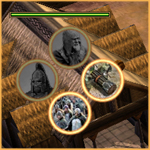 As in version 0.55, Rohan still has access to the Royal Guardsmen and Door-Wardens of Edoras. However, all of the new units are rather crowding the Archery Range and Stables. To that end, we're adding a Barracks to the faction (build animations graciously provided by Rob38). This structure now houses the new general units of the Rohan faction. Door Wardens are now built there at Rank 3.
The Westfold Miltia are levied spearmen. They aren't that tough or versatile, but are reasonably inexpensive. If you're having a lot of trouble with enemy cavalry and Warg Riders, some Militia may be a good choice. They combo well with Peasants and Yeoman Archers. Westfolders are constructed at the Rank 1 Barracks, but first require you to purchase the Defenders of the Wold upgrade from the same structure. This enables Westfold Militia for purchase at any Barracks, and and Horsemen of the Mark at any Farm.
The last new unit that Rohan gets is the Rohirric Battering Ram. A basic siege weapon, it doesn't need much of a description - it is manned by a tough crew of Westfolders and can be used to batter down gates and small walls.
Posted on December 5, 2011, by Nertea. View Comments (10)
News - June 18th Update: Miscellaneous Screenshots
Posted on June 18, 2011, by Nertea. View Comments (23)
Just to prove we're still alive. I don't have more than an hour or two to mod per week these days, so I just took a couple of screenshots of many things that you have not seen yet in Rohan and Isengard. They're all shaping up nicely!

However, I'm not giving any details on them! Mwahahaah!.


August Release.
Posted on June 18, 2011, by Nertea. View Comments (23)
News - Gallery Update (8th Feb)
Posted on February 8, 2008, by m@tt. View Comments (22)
Well you've all been moaning about the lack of Rhovanion Alliance screenshot updates, so I've uploaded 20 for your viewing pleasure. And there should be more to come in the nearish future.

In particular, the screens show off the new Mordor Catapult, more snow, Mirkwood Buildings and a new map.


Posted on February 8, 2008, by m@tt. View Comments (22)
---