The Dwarf Holds (TDH) is a mod for The Battle for Middle-Earth. TDH adds a fully-functional Erebor faction, significantly updates the gameplay and artwork of the original four factions, and includes a wide array of maps covering the whole of Middle-earth.
TDH's latest version, 0.75, was released in March 2012, and can be downloaded from our downloads page. For more information, check out our news (below), screenshots on our media page, and information about new content on our about page.
News - Upcoming TDH Patch News
Posted on March 31, 2012, by Nertea. View Comments (4)
Hello T3Aers,

Though the release of 0.75 seems to have gone reasonably well, some issues have come up that we're working on addressing. These include the Entmoot bug and a few balance changes. Expect a patch to be out in a week or so, as we're also working on making needed improvements to the AI that need some more time. We'll also be releasing a Worldbuilder installer that will allow you to make maps with TDH content effortlessly. Stay tuned for more information.

In the meantime, we can offer a solution to the pink arrows bug that seems to occur at random. To greatly decrease the chance of this happening, when you install The Dwarf Holds, makes sure to run the installer as an administrator. To do this, simply right click on the file and select "Run as administrator". Then, proceed as normal. This has worked so far for forum members. If the problem persists, you may also want to run Battle for Middle-earth as an administrator.

Thanks for your patience!
Posted on March 31, 2012, by Nertea. View Comments (4)
News - The Dwarf Holds 0.75
Posted on March 23, 2012, by Nertea. View Comments (52)

After a lot of work, things thrown at walls and lots of time, we can finally announce that The Dwarf Holds version 0.75 is ready to download. It contains tons of new content, including new units for every faction, new spells, new heroes, new buildings - the works! It also fixes many bugs and makes balancing changes. For the full changelog see
here
(though it's missing a few maps). You can also have a look though the extensive manual - included with the download or available
here
.
Note: because we made some changes to the auto-updater,
you cannot use it to update to the new version
. Unfortunately, you have to download the full installer. Sorry about that!
To download, just head over to
our ModDb page
. We also have an alternative download on
LOTR Files
.
If you find and bugs that aren't listed in the manual/changelog, post them in bugs threads
here
. We'll address them as well as we can.
The TDH team hopes you enjoy the release!
Posted on March 23, 2012, by Nertea. View Comments (52)
News - March 8th Update: Basically Complete
Posted on March 8, 2012, by Nertea. View Comments (67)
Since you've all been so good... I thought I'd let you know I've just finished fixing the major bug that was delaying things. My entire work-time is now dedicated to finishing up the manual, at which point we will release. Look for a new version of The Dwarf Holds by the end of the month, if not earlier!
Posted on March 8, 2012, by Nertea. View Comments (67)
News - December 5th Update: Mod of the Year and The Horse Lords
Posted on December 5, 2011, by Nertea. View Comments (10)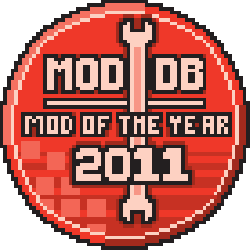 First off, I'd just like to mention that Moddb's Mod of the Year contest is going on right now. If you'd like to support us in our effort to get some BFME mods well-recognized, you could head over to our page
HERE
and vote for us. Also consider voting for
Phoenix Rising
, another Revora mod that I work on from time to time
. We'd really appreciate the support.
Anyways, on to the update!
Welcome to the first Rohan update! The next few updates will roll out the changes to the Horse-Lords of Middle-earth, and then, hopefully, we'll release version 0.75.
We'll kick off the next set of updates with the three new Rohan units we'll be introducing, as well as one structure.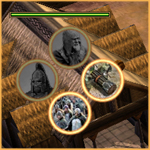 As in version 0.55, Rohan still has access to the Royal Guardsmen and Door-Wardens of Edoras. However, all of the new units are rather crowding the Archery Range and Stables. To that end, we're adding a Barracks to the faction (build animations graciously provided by Rob38). This structure now houses the new general units of the Rohan faction. Door Wardens are now built there at Rank 3.
The Westfold Miltia are levied spearmen. They aren't that tough or versatile, but are reasonably inexpensive. If you're having a lot of trouble with enemy cavalry and Warg Riders, some Militia may be a good choice. They combo well with Peasants and Yeoman Archers. Westfolders are constructed at the Rank 1 Barracks, but first require you to purchase the Defenders of the Wold upgrade from the same structure. This enables Westfold Militia for purchase at any Barracks, and and Horsemen of the Mark at any Farm.
The last new unit that Rohan gets is the Rohirric Battering Ram. A basic siege weapon, it doesn't need much of a description - it is manned by a tough crew of Westfolders and can be used to batter down gates and small walls.
Posted on December 5, 2011, by Nertea. View Comments (10)
News - November 21st Update: The White Hand Part II
Posted on November 21, 2011, by Nertea. View Comments (27)
In this update, I'll be showing off Isengard's new hero and some major changes to Saruman.


Saruman starts off with a new Rank 10 power - Storm. This power can be cast on enemy buildings to massively decrease their production output while damaging them as well. Don't like your opponent's prized Level 3 Mumakil Pen? Well, a Storm or two will destroy it. The rest of his powers are unchanged.
Eventually Saruman the White broke light to see what it was made of, and so became Saruman of Many Colours. In the mod, Summon Balrog has been replaced by a power upgrading Saruman. This gives him a host of new devastating powers to choose from. Firstly, Wizard blast becomes Crushing Blast, a new power with greater range that deals crushing damage to all enemies causght within its area of effect. Fireball is improved to Searing Fireball, which ignites the ground for several seconds after impact. Both Dominate and his Leadership powers also increase in radius and strength. Speech Craft is replaced by Isengard Unleashed, a new power that greatly boots the production speed of a target building for quite a long duration. Finally, Storm is also replaced - Duel of Minds is another crafty new power. When used, Saruman will engage in a duel of wills with the opponent. This has the effect of debuffing all of their attributes and doing some light damage. The power lasts until Saruman is moved or uses another power, so can be used to lock down an opponent's hero. However, there are a few mighty characters with the mental fortitude to stave off this attack completely...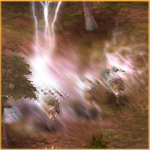 Besides this set of powers, Saruman also casts lightning bolts when upgraded, which provide a slow but rather powerful attack.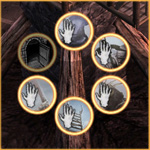 When you purchase Saruman of Many Colours from the spellbook, you also gain a new structure. Your Citadels construct a scaffhold around them upon which Saruman can perch and give orders to his minions. From the building, you can purchase Focus upgrades. Only one can be active at a time, but you may choose from modes that benefit Uruks, Archers, Warg Riders, Siege Weapons or resource collection.
Posted on November 21, 2011, by Nertea. View Comments (27)
---