The Dwarf Holds (TDH) is a mod for The Battle for Middle-Earth. TDH adds a fully-functional Erebor faction, significantly updates the gameplay and artwork of the original four factions, and includes a wide array of maps covering the whole of Middle-earth.
TDH's latest version, 0.75, was released in March 2012, and can be downloaded from our downloads page. For more information, check out our news (below), screenshots on our media page, and information about new content on our about page.
News - December 6th Update: Old Foes
Posted on December 7, 2009, by Nertea. View Comments (47)


Old Foes


As the mod moves closer to release, we're finishing off some minor work on the other factions. We've been concentrating on Isengard and Rohan, as these two factions were the most incomplete in the old Rhovanion Alliance Mod.

The Horse Lords
The bulk of Rohan's forces have been recently remodelled and reskinned to match the high artistic quality that characterizes the Dwarves and other factions in
The Dwarf Holds
. One of the key aspects of this quality is randomization. In our other factions, we've included variety within hordes - for example, there are 32,000 possible Orc Warriors that are randomly generated when the player builds a horde. Our new Rohan is no different - but the scale is even larger. Riders of Rohan have, for example, a pool of 24 million possible variations - no joke! Chances are that you'll never see the same Rider, mounted Archer or Yeoman in the same game.
These Riders of Rohan cut easily through any legion of Uruk-Hai
We have also of course eliminated the vanilla BFME gold armour, and added a new effect for the Forged Blades upgrade - Tengwar runes are inscribed on the blades of upgraded weapons in Good factions.
Armoured Yeomen jeer the fleeing Uruks as Elves of Lorien show off their new weapons
I'm particularly proud of our work on the Peasants, who have also been remodeled and given a horde of amusingly agricultural weapons - your undrafted peasants will now wield pitchforks, scythes and rough axes, and gain some more professional weapons and shields when drafted.
On the left, peasants claim a farm. On the right, they are drafted into its defence
The Elves, Aragorn and Legolas have also been given their Rhovanion Alliance models
Secondly, as Gimli son of Gloin has been moved to the Dwarf faction, we're adding a new Rohirric hero to replace him. Enter Elfhelm, a heroic Marshal of Rohan who fought in Theoden's host at the Pelennor. After the battle, he was given command of the Rohirric forces charged with the defence of Anorien and Gondor while King Eomer and the Lord Aragorn led a host to challenge the Black Gate. He was later honoured with the rank of Marshal of the East-Mark on Eomer's victorious return.
On the left, the mounted heroes of Rohan. On the right, Elfhelm using his Outrider power
In the mod the combat capabilities of King Theoden and Eomer have been increased, and Elfhelm has claimed the role of early-game hero. His heroic powers include the ability to detect invisible units, a power that boosts his speed temporarily, and a leadership bonus to mounted troops. His late-game power is very potent - he can declare a Blinding Charge, stunning enemies that are nearby and negating their pike damage for a short period. Combined with Theoden's Glorious Charge, this is sure to be devastating.

The White Hand
The forces of Saruman have also recieved a facelift so they can stand beside their old foes. Lurtz and Saruman have new skins, and the Uruk-Hai now start off in the rough leather armour of the Scouts, and are upgraded to plated armour.
Lurtz prepares a force of Uruks to cross the plains of Rohan while Saruman inspects the troops
Warg Riders have new skins as well, and all units have a new, subtle effect for Forged Blades - runic Black Speech inscribed onto their weapons.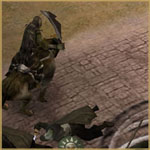 These Peasants were no match for the vicious Wargs and their bloodthirsty riders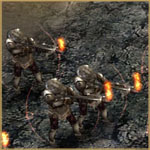 Fully Upgraded Crossbowmen
That's all for this week, hope you enjoyed the update!
Posted on December 7, 2009, by Nertea. View Comments (47)
News - November 21st Update: Gimli and Gloin
Posted on November 21, 2009, by Nertea. View Comments (19)
Today, I present an update featuring a pair of the Dwarf faction's heroes. Enjoy.




Gimli and Gloin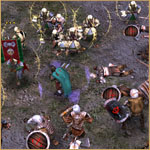 Gloin and Gimli lead a party of Khazad-Uzbadul into battle
Gloin, the venerable father of Gimli, was one of Thorin Oakenshield's twelve companions during the Quest for Erebor. Sent by Dain to the Council of Elrond with his son, he joins the fight against the evil pouring from Mordor.
In The Dwarf Holds, Gloin holds the position of early game hero. Because of his advanced age, his offensive power is not his strength, but he retains the stubborn toughness inherent to all Dwarves, reflected in his health and armour values. He also functions as a support hero, sporting several useful abilities. Gloin's knowledge of Middle-Earth through his travels allows him to increase the speed of nearby units slightly, and skills of survival gained give him the abilities needed to heal nearby troops and heroes. At later levels his Emissary ability grants him near-invincibility - potentially very useful when deploying his support skills. He can also use cunning and skill to lay a trap for units, immobilizing them if they enter its effect radius. The trap remains so long as Gloin maintains it - if he is moved, the trap immediately dissipates.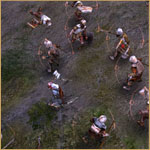 Gloin cuts through a party of Orcs and Haradrim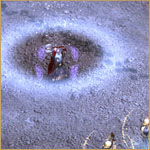 Woodscraft heals both troops and heroes, making Gloin an essential feature of any Dwarf war party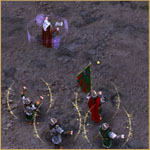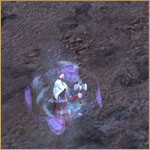 Enemies moving over the rune inscribed in the ground are immobilized, and easy prey for the waiting Rakhas-udrig.
Gimli, moved from Rohan to aid his Dwarven kin, has also received a few improvements. At Level 5, his assaying and prospecting abilities allow him to boost a single Dwarf Mine's income. At Level 8, he dons upgraded armour from the forges of Erebor, increasing his defence slightly. These changes make Gimli even more versatile on the battlefield.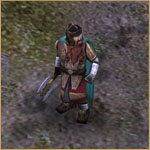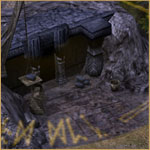 Gimli's Armour of Erebor and Shrewed Prospector powers in action.
Posted on November 21, 2009, by Nertea. View Comments (19)
News - August 12th Update: Dwarf Camp and Upgrades
Posted on August 12, 2009, by Nertea. View Comments (21)


Dwarf Camp and Upgrades


In the past, we showed a couple renders of the Dwarf Camp's defenses, and in this update I'm going to talk about the Camp's ingame functionality.
The Dwarven camp is, in many respects, a miniature castle. It is protected by a low wall complete with a functional gate which can be manned by Archers or any other type of unit for defence. This affords protection to these units, but is balanced by a significant weakness; the wall is low enough that archers outside the castle may be able to hit buildings in the protected area beyond. Melee units cannot scale it though: the Shadow's siege machines have not been designed to tackle this type of... short... obstacle. Still, the wall is weak, and will not require many blows from a stout ram to crack it and allow the enemy to flood the base. However, the greatest strength the Camp posesses is its ability to recieve wall upgrades, similar to those found on Gondor and Rohan Castles. Three upgrades are available to the Dwarf player.
The first is a basic Watchtower, similar to those found in other factions' camps, though sturdier in build. Because it doesn't need to be defended, it is useful for those times when troops cannot be spared to protect the Camp.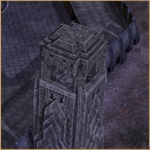 The second is the Raven Banner - the army standard of Erebor. The sigil of the Raven increases the range and damage of friendly archers. If you have garrisoned your walls with the Rakhas-udrig, this is a very useful upgrade.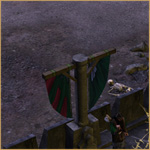 The third structure is more offensive than defensive. The Roost, once built, houses a single free Raven of Erebor. I will discuss these scouting units in a future update in more detail. Ravens are useful to the player in many ways, and the one granted by this upgrade even more so. If it is killed under the player's orders, a new Raven will be provided at the Roost after some small delay. A very useful structure for any player that likes scouting.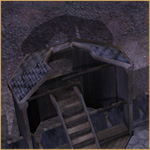 Posted on August 12, 2009, by Nertea. View Comments (21)
---