The Dwarf Holds (TDH) is a mod for The Battle for Middle-Earth. TDH adds a fully-functional Erebor faction, significantly updates the gameplay and artwork of the original four factions, and includes a wide array of maps covering the whole of Middle-earth.
TDH's latest version, 0.75, was released in March 2012, and can be downloaded from our downloads page. For more information, check out our news (below), screenshots on our media page, and information about new content on our about page.
News - July 3rd Update: What To Expect
Posted on July 2, 2012, by _Haldir_. View Comments (39)
Hey there!

It's been quite a while since our last update and the release of the 0.755 patch, which we hope you're all enjoying. But even though things have been fairly quiet here in terms of public updates, don't worry! The team has been hard at work on lots of exciting new things. So in this update, we thought we'd give you a little peek at what's been happening behind the scenes, and what you can expect from the Dwarf Holds over the next while.



For those of you who haven't guessed as much already, i'm pleased to announce that The Dwarf Holds is currently working on adding in two brand new campaigns. Those of you who were savvy enough (or illiterate enough
) to venture past the "Unavailable" buttons in the mod's campaign section may have even caught a glimpse of the beginnings of a new Living World Map. Well, see below for the nearly-finished result.


Now we don't want to give away too many details, but we can tell you that there will be two Dwarven campaigns. One will follow the story of Balin, and his ill-fated Retaking of Moria. The other will take you through the War in the North, and the Dwarven battles that took place during the War of the Ring.
Each campaign will contain plenty of new maps, new units, and new spellbook powers for you to experience; and we've made sure to include a unique and interesting variety of campaign missions and map objectives for you to play through.
As i said, we wouldn't want to ruin the surprises by showing you too much of the different campaign missions, so updates will probably be fairly scarce from now on. However, we'll certainly try and give you small glimpses when we can, so here's a little sneak peek at the first mission of the Moria campaign, The Eastgate.


And that's all for this update!
Posted on July 2, 2012, by _Haldir_. View Comments (39)
News - The Dwarf Holds 0.75
Posted on March 23, 2012, by Nertea. View Comments (52)

After a lot of work, things thrown at walls and lots of time, we can finally announce that The Dwarf Holds version 0.75 is ready to download. It contains tons of new content, including new units for every faction, new spells, new heroes, new buildings - the works! It also fixes many bugs and makes balancing changes. For the full changelog see
here
(though it's missing a few maps). You can also have a look though the extensive manual - included with the download or available
here
.
Note: because we made some changes to the auto-updater,
you cannot use it to update to the new version
. Unfortunately, you have to download the full installer. Sorry about that!
To download, just head over to
our ModDb page
. We also have an alternative download on
LOTR Files
.
If you find and bugs that aren't listed in the manual/changelog, post them in bugs threads
here
. We'll address them as well as we can.
The TDH team hopes you enjoy the release!
Posted on March 23, 2012, by Nertea. View Comments (52)
News - July 2nd Update: The Fortress of Erebor
Posted on July 2, 2010, by Nertea. View Comments (66)
I've dedicated this entire update to showing off Haldir's awesome new Erebor map. We've worked quite a lot to bring this centrepiece map to life, and well... now I'll just give you some screenshots.
Dain's throne, Erebor's main gate, and the fortress's Hall of Records
The Main Hall, living chambers and armories
The Main Gate, Ravenhill and a path to a secret entrance...
Of course, the fortress wouldn't be complete without the closely linked town of Dale:
The City Centre, Outskirts and the River Running
Eastern forces scout for an entrance, while Orcs pour up the River Running and into Dale
The map has a three versus one layout. The main gate is the primary entrance, with a trio of secret entrances providing the Erebor player with possible flanking routes.
Enjoy!
Posted on July 2, 2010, by Nertea. View Comments (66)
News - Upcoming New Unit Showcase The Second
Posted on April 5, 2010, by Nertea. View Comments (32)
The patch will be delayed some days, I'm not exactly sure how many. In consolation, I'll present the actual new units for Rohan and Isengard.


Sons of Eorl
passive special ability, which grants them +50% to the effectiveness of any Leadership bonus recieved from a Rohan hero. They are purchased at a Rank 3 Stable, and can receive the Banners upgrade - all the others are inherent.
Defenders of Rohan
gives them bonuses when near friendly Farms, and
Lock Shields
gives them bonuses to their already formidable combat capabilties. They can recieve the Banners upgrade, and are purchased at a Rank 3 Archery Range. Like their mounted cousins, only 2 units can be active at once.
King's Guard of Meduseld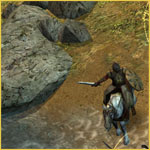 You'll just have to wait and see!
The Scouts of Isengard are tough, fast and nasty. Elite troopers, they can switch between short-ranged but deadly bows and swords and shields. Scouts are important as they are now the only Isengard unit that can get Fire Arrows. They also have a much higher attack rate that the sluggish Crossbowmen, so are better on the move. A Rank 3 Uruk Pit is needed to train Scouts. They can purchase Forged Blades, Fire Arrows and Banners. The lack of Heavy Armor makes them better skirmish troops than frontline ones, though they are intrinsically tough.
Posted on April 5, 2010, by Nertea. View Comments (32)
News - Voice Actors Needed!
Posted on January 18, 2010, by Nertea. View Comments (90)
Do you think you have what it takes to voice a noble (or perhaps vengeful) Dwarf?

Well then, you're in luck!
We are still in need of several voice sets for Erebor units and heroes. If you are interested, have motivation and a decent microphone, why not give it a shot? We'd greatly appreciate any help we can get.
If you do decide to apply, here's what to do. First, let us know which unit(s) you are interested in by posting in this thread, then PM examples of your voice work in .wav format (record some of the cues from your target Dwarf) to Matias - we'll get back to you right quick about whether we think they're suitable. If we think they are, record the rest of the script. Simple!
You can check out the scripts for units here:
here
.
I look forward to hearing from you (literally)!
Posted on January 18, 2010, by Nertea. View Comments (90)
---